Website
Team's Role: Usability Testing, Design Thinking, Information Architecture, User Experience & User Interface/Visual Design
Empathize
Like most website projects on my team, our first goal is to immerse ourselves in understanding what the users of our website truly need. PPGPaints.com's primary audience is professional painters, with a secondary focus on do-it-yourself homeowners.
To gain empathy for these users and understand the challenges they face when selecting a paint color online and ultimately choosing a product, we began with conducting interviews with users and usability testing on not only the current version of PPGPaints.com, but also with competitors like Sherwin Williams, paint retailers like The Home Depot and Walmart, and other PPG-owned paint-brand websites like Glidden.com.
Define
After gaining an understanding of the user needs and leveraging the historical knowledge of other paint websites, my team conducted working design-thinking sessions with stakeholders, designers and developers to align on a UX direction for the new website build.
Above: Various photos of whiteboarding outcomes for proposed UX directions
Iterate & Prototype
When a consensus was reached, my team proceeded to rapdily create functional prototypes in Axure giving us the ability to test our proposed solutions with users prior to implementing in development.
Above: Screenshots from mobile-first Axure prototypes of the PDP pages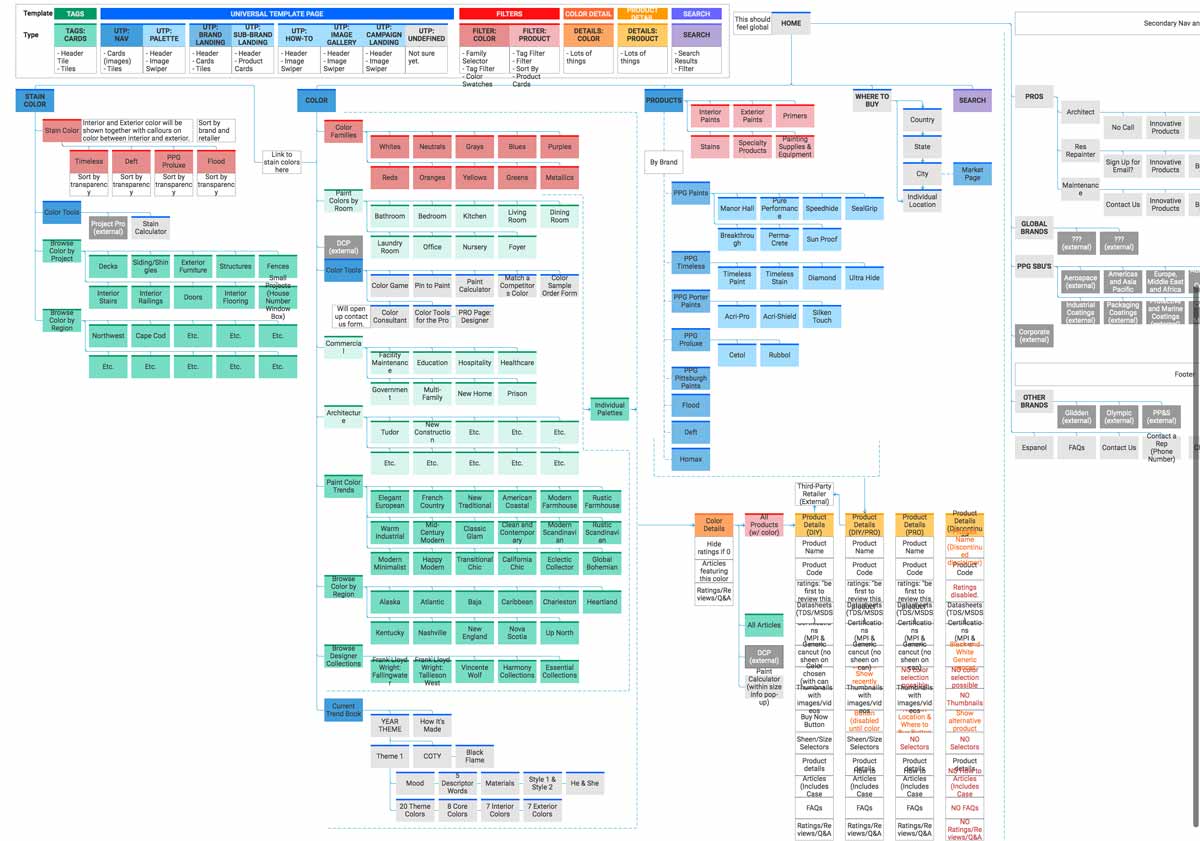 Above: Additional artifacts including a proposed sitemap for the new PPGPaints.com
Through rapid iteration and testing, we were able to confidently propose validated user experiences to our business.
So what did I learn while working on this project?
My team creates a lot of design artifacts that get thrown away at the end of the project. A lot. Hundreds of hours were spent crafting wireframes in Axure and making pixel-perfect Photoshop comps for business approval. And outside of archiving them in my portfolio, they provide zero value at the end of the project. This information helped me learn and understand where my team can provide more value – on the website code itself.